How Often To Service Your Air Conditioner
It's recommended that you service your home air conditioner system at least once every year. The same goes for your heating system. While it's always a good idea to do some regular check-ins and cleaning throughout the year to make sure your system is running smoothly, a once-annual air conditioner service appointment is always essential. Scheduling seasonal air conditioning maintenance will ensure you maximize your time, your dollar, and the life and safety of your AC system.
How Much Does It Cost to Service An Air Conditioner?
Whether you installed central air conditioning in your home or there was an existing heating and/or cooling system when you moved in, the cost of regular air conditioning repair and maintenance is absolutely worth it to avoid having an AC problem in the future. It will also help you avoid having to replace expensive components in your system — like an air compressor or evaporator coil.
Some HVAC experts charge a flat rate for standard air conditioner servicing, while others charge by the hour. Regular maintenance generally costs around $140-$220, while the average cost of air conditioner repair is about $300-$700.
Jacobs Heating & Air Conditioning offers seasonal specials, which can save you money on maintenance and repairs. We also offer regular maintenance agreements that allow you to choose between several different plans. Each plan features Saturday service, scheduling reminders, and monthly payment options.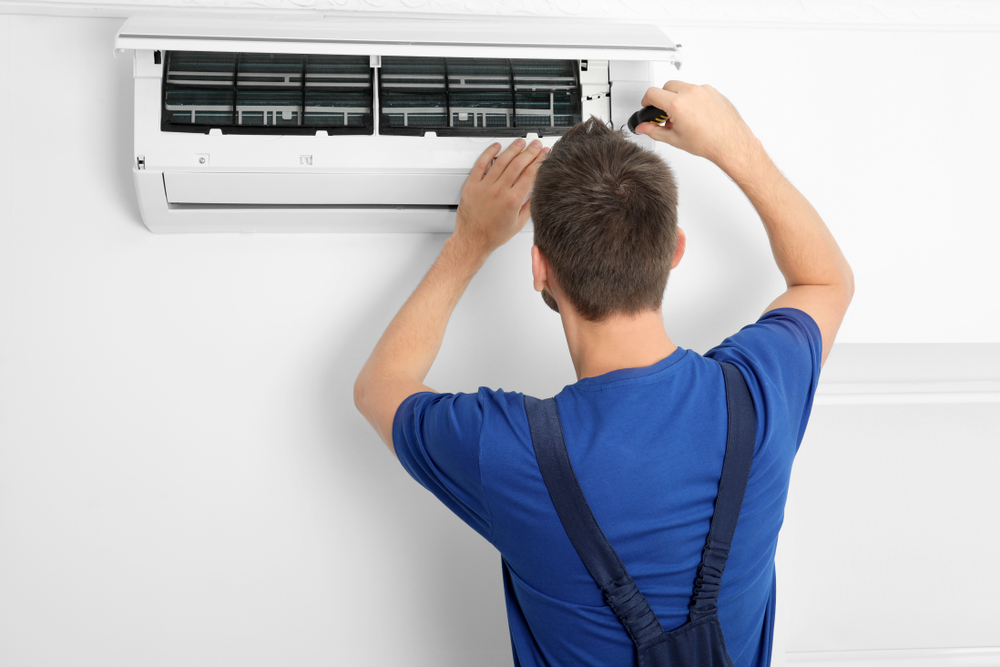 How to service an air conditioner yourself?
Clean the Air Filter of air conditioner – One of the easiest DIY ways to service an aircon is by cleaning the filters. You can also replace the filter by removing the old filters and inserting the new one. Check the instruction manual to find the right size of the filter. How often should you replace the AC filter? If you have pets, allergies or live in a dusty area, replace the filters every 60 days. But if you have low usage, replace the filter every 4-6 months
Clean the vents and outside unit – Some other things you can do to clean your AC is by cleaning the indoor vents. Ensure the outdoor unit is free from dirt, leaves and debris
Visually inspect the pipes to check for any damages
Now that you have cleaned the aircon, turn on the aircon and observe if the unit is cooling your space, is it quiet, and is it odour-free? Some smell may be possible due to the accumulation of dust and it should clear out slowly